AMC - a media center for Aros, AmigaOS and MorphOS (Update 2)
11/03/2010 13:48
Just a Teaser! Icons and images will be designed by the guy who did the AresOne logo,especially for this app(because of license). Allanon is working on a Mplayer Frontend for AROS, MorphOS and AmigaOS. Stay tuned! It will rock your life : )
Ares Media Center(Box + Remote) is coming!

Good news for owners of a AresOne: You will get it for free (subsidized by me)
Be sure it will be bundled with every Ares - System in the future.
(UPDATE)
Some progress(the first two screens show the first official iconset)
You can create own icon-sets and backgrounds.

(UPDATE 2)
Button Layout will changed, minimizing the app like itunes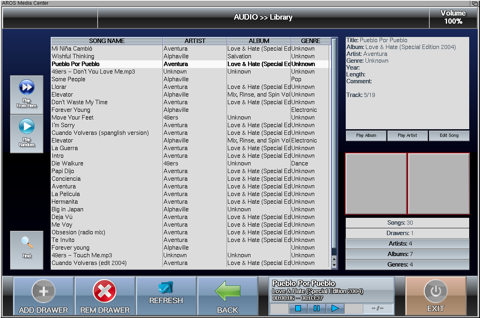 MINIMIZED will look like this (design will change for the final product!):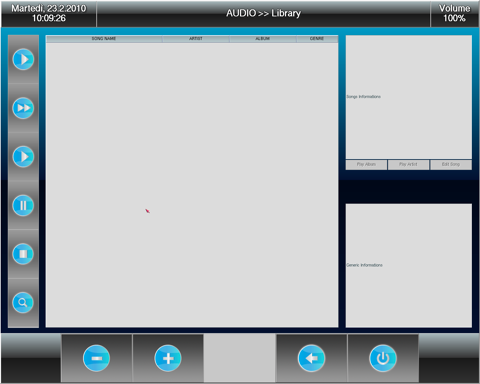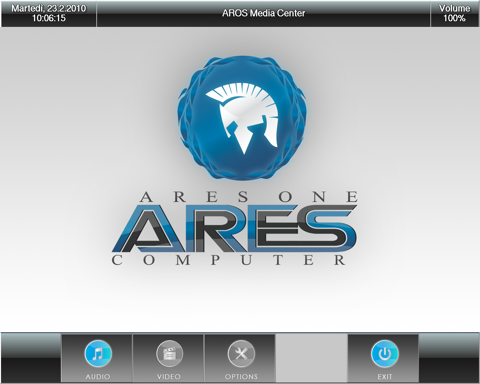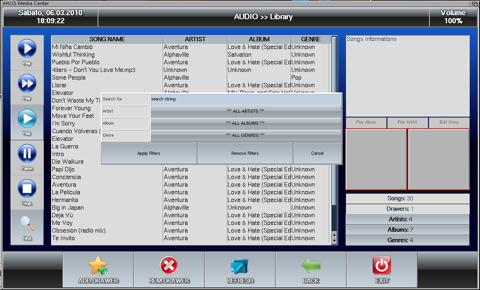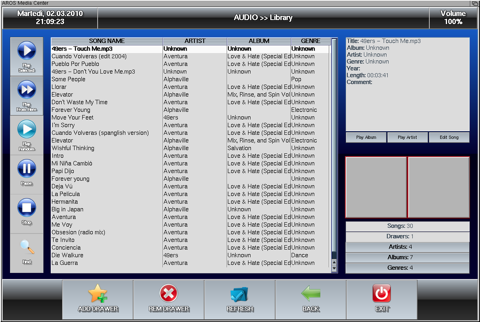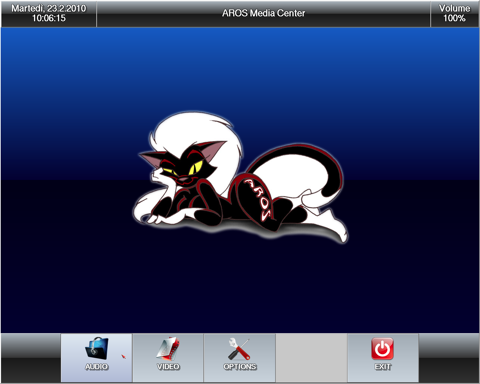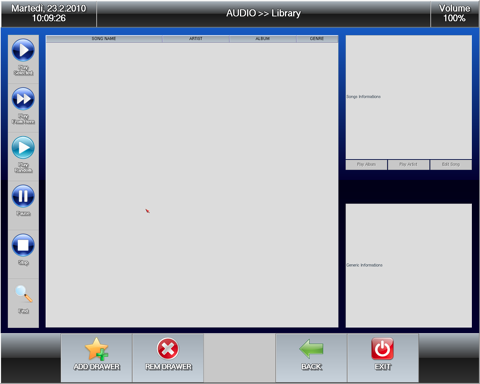 Please watch this nice video created by Roman Eberle - http://www.roman-eberle.de/
the AresOne isavailable at
www.vesalia.de
.
Even the white case is back!

Big UPDATE! Davy Wentzler finished the AresOne -onboard-Sounddriver, the previosly needed Soundcard is gone and the price has been lowered to 339,90 Euro !! Great Value!

Most people are complaining about the price. Its cheap as hell : ) really:
We are using a good qualitiy mainbaord - MSI KN9NEO V2
You get a Geforce 8400 PCI-E which is used with Gallium3D in mind!
you get not 1 but 2GB! Ram and not the cheapest - its not 667 its DDR2 @800!
The board supports up to 8GB RAM! Imagine what you could do if AROS 64 will come or AnubisOS
You get Amiga Forever with your AresOne! This includes WB and Kickstart.roms! Use it for the UAE-Integration coming in some days/weeks
You get a nice/stylish case in white or black
You get a FryinPan Keyfile which costs normally 25€ too!
You get a good feeling because your money goes in parts back to AROS developement and sure exclusive ARES-features or enefit from other AROS-Projects i initiate like the upcomming Media-Center-Frontend
Be part of the whole! Lets boost development!

Be prepared for: Catweasel, Media Center, UAE-Integration,Printing, more Emulators and much more.......... Lets strike back!

have look here
www.vesalia.de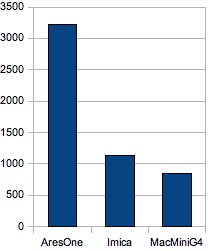 (AresOne benchmark: used only one core @3.0GHZ!)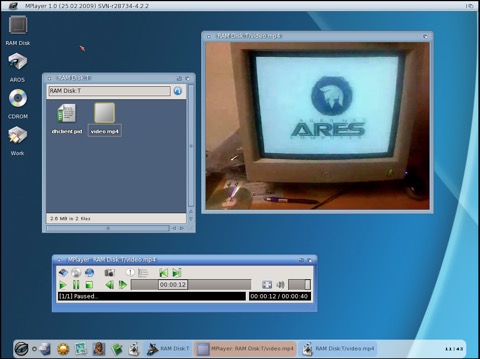 Remember you get a Fryingpan Key whic costs normally 25€ and a wonderful writingapp Cinnamon Writer 0.67 for AROS with every AresOne.
Cinnamon Writer features all functions to Write Letters and more. It support txt,RTF and PDF export!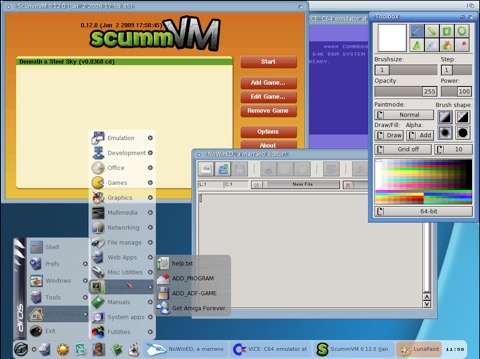 Its only a matter of time when AROS developement and Software-support is on par with AmigaOS or Morphos.....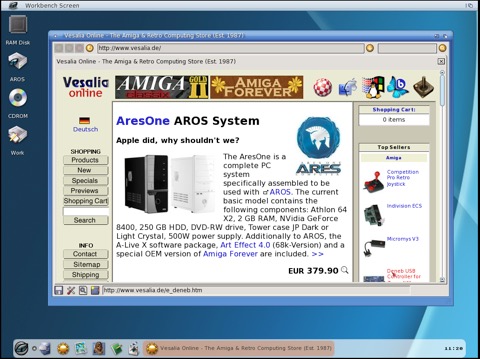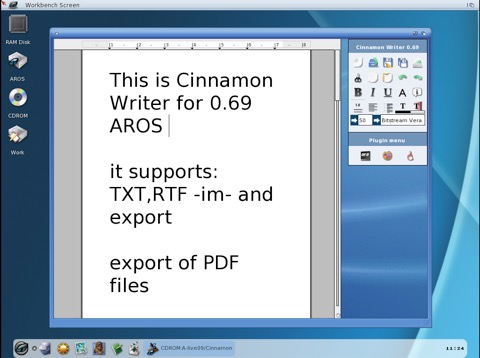 18 October 2015
11 October 2015
04 October 2015
27 September 2015
20 September 2015
13 September 2015
06 September 2015
30 August 2015
23 August 2015
16 August 2015
09 August 2015
02 August 2015
26 July 2015
19 July 2015
12 July 2015
05 July 2015
28 June 2015
21 June 2015
14 June 2015
07 June 2015
31 May 2015
24 May 2015
17 May 2015
10 May 2015
03 May 2015
26 April 2015
19 April 2015
12 April 2015
05 April 2015
29 March 2015
22 March 2015
15 March 2015
08 March 2015
01 March 2015
22 February 2015
15 February 2015
08 February 2015
01 February 2015
25 January 2015
18 January 2015
11 January 2015
04 January 2015
28 December 2014
21 December 2014
14 December 2014
07 December 2014
30 November 2014
23 November 2014
16 November 2014
09 November 2014
02 November 2014
26 October 2014
19 October 2014
12 October 2014
05 October 2014
28 September 2014
21 September 2014
14 September 2014
07 September 2014
31 August 2014
24 August 2014
17 August 2014
10 August 2014
03 August 2014
27 July 2014
20 July 2014
13 July 2014
06 July 2014
29 June 2014
22 June 2014
15 June 2014
08 June 2014
01 June 2014
25 May 2014
18 May 2014
11 May 2014
04 May 2014
27 April 2014
20 April 2014
13 April 2014
06 April 2014
30 March 2014
23 March 2014
16 March 2014
09 March 2014
02 March 2014
23 February 2014
16 February 2014
09 February 2014
02 February 2014
26 January 2014
19 January 2014
12 January 2014
05 January 2014
29 December 2013
22 December 2013
15 December 2013
08 December 2013
01 December 2013
24 November 2013
17 November 2013
10 November 2013
03 November 2013
27 October 2013
20 October 2013
13 October 2013
06 October 2013
29 September 2013
22 September 2013
15 September 2013
08 September 2013
01 September 2013
25 August 2013
18 August 2013
11 August 2013
04 August 2013
28 July 2013
21 July 2013
14 July 2013
07 July 2013
30 June 2013
23 June 2013
16 June 2013
09 June 2013
02 June 2013
26 May 2013
19 May 2013
12 May 2013
05 May 2013
28 April 2013
21 April 2013
14 April 2013
07 April 2013
31 March 2013
24 March 2013
17 March 2013
10 March 2013
03 March 2013
24 February 2013
17 February 2013
10 February 2013
03 February 2013
27 January 2013
20 January 2013
13 January 2013
06 January 2013
30 December 2012
23 December 2012
16 December 2012
09 December 2012
02 December 2012
25 November 2012
18 November 2012
11 November 2012
04 November 2012
28 October 2012
21 October 2012
14 October 2012
07 October 2012
30 September 2012
23 September 2012
16 September 2012
09 September 2012
02 September 2012
26 August 2012
19 August 2012
12 August 2012
05 August 2012
29 July 2012
22 July 2012
15 July 2012
08 July 2012
01 July 2012
24 June 2012
17 June 2012
10 June 2012
03 June 2012
27 May 2012
20 May 2012
13 May 2012
06 May 2012
29 April 2012
22 April 2012
15 April 2012
08 April 2012
01 April 2012
25 March 2012
18 March 2012
11 March 2012
04 March 2012
26 February 2012
19 February 2012
12 February 2012
05 February 2012
29 January 2012
22 January 2012
15 January 2012
08 January 2012
01 January 2012
25 December 2011
18 December 2011
11 December 2011
04 December 2011
27 November 2011
20 November 2011
13 November 2011
06 November 2011
30 October 2011
23 October 2011
16 October 2011
09 October 2011
02 October 2011
25 September 2011
18 September 2011
11 September 2011
04 September 2011
28 August 2011
21 August 2011
14 August 2011
07 August 2011
31 July 2011
24 July 2011
17 July 2011
10 July 2011
03 July 2011
26 June 2011
19 June 2011
12 June 2011
05 June 2011
29 May 2011
22 May 2011
15 May 2011
08 May 2011
01 May 2011
24 April 2011
17 April 2011
10 April 2011
03 April 2011
27 March 2011
20 March 2011
13 March 2011
06 March 2011
27 February 2011
20 February 2011
13 February 2011
06 February 2011
30 January 2011
23 January 2011
16 January 2011
09 January 2011
02 January 2011
26 December 2010
19 December 2010
12 December 2010
05 December 2010
28 November 2010
21 November 2010
14 November 2010
07 November 2010
31 October 2010
24 October 2010
17 October 2010
10 October 2010
03 October 2010
26 September 2010
19 September 2010
12 September 2010
05 September 2010
29 August 2010
22 August 2010
15 August 2010
08 August 2010
01 August 2010
25 July 2010
18 July 2010
11 July 2010
04 July 2010
27 June 2010
20 June 2010
13 June 2010
06 June 2010
30 May 2010
23 May 2010
16 May 2010
09 May 2010
02 May 2010
25 April 2010
18 April 2010
11 April 2010
04 April 2010
28 March 2010
21 March 2010
14 March 2010
07 March 2010
28 February 2010
21 February 2010
14 February 2010
07 February 2010
31 January 2010
24 January 2010
17 January 2010
10 January 2010
03 January 2010
27 December 2009
20 December 2009
13 December 2009
06 December 2009
29 November 2009
22 November 2009
15 November 2009
08 November 2009
01 November 2009
25 October 2009
18 October 2009
11 October 2009
04 October 2009
27 September 2009
20 September 2009